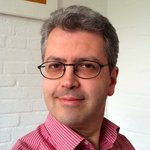 Dinu Gherman
Dinu Gherman discovered Python around 1995 just before finishing his studies of Computer Science at the Technical University of Karsruhe (Germany). He was immediately attracted by its elegance, already visible at the time, and regarded it soon as an almost universal language rather than as what was, back then, more known as a 'scripting' language. Since 2000 Python has become his most important tool for solving programming issues from personal to industrial scale.
He contributed to the Python community by writing articles about Python, translating many Python-related books for O'Reilly, Pearson Education and other publishers, participating in Python conferences, founding and developing the local Python User Group in Berlin and building it up with others to a point where it feels capable to and actually did hold the largest EuroPython conference ever organized so far in 2014.
Today, Dinu provides his consulting expertise mostly to the growing landscape of software technology start-ups in Berlin, while also discovering the pleasures of watching a more recent 'wetware' project grow every day, his almost two year old lovely son.
Interested in cleancode, devops, doc, elasticsearch, flask, geo, mindful, open, pdf, reportlab, rest, science, social, sociocracy, svg, test, testing, train, viz, zeromq