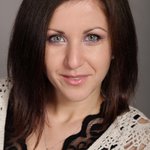 Adriana Vasiu
Adriana currently works as a Senior Software Developer at BskyB in London, where she has worked for over 2 years. She is agnostic in terms of languages, although her favourite one at the moment is Python.
She works in an agile team which develops features across an entire sales platform and she has learnt a lot from the very skilled and talented people that she has worked with at BSkyB.
Having in total more than 6 years experience, she always concentrates on continuous improvement of the software that she builds, always adapting to the market, learning new things and improving her knowledge.
Adriana sees Europython as an opportunity to share her enthusiasm and motivation towards building software applications in Python, and to expand her knowledge in the language.
Interested in agile development process, algorithms, application performance testing, bdd, continuous delivery, continuous integration, deployment pipeline, flask, git, hypermedia enabled services, Java, mathematics, Python, RESTfull architecture, Ruby, semantic web, software architecture, tdd